In Memory
Linda Sue Belk (Cochrane)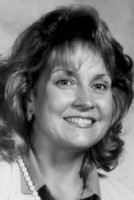 When schoolchildren delight in the cozy environments of newly constructed libraries in the Houston Independent School District, they are appreciating the legacy left behind by Linda "Susie" Cochrane.Cochrane, who retired in May after working 34 years for the same district, died on Labor Day as a result of complications from colon cancer. She was 58.
Starting as a kindergarten teacher, then moving to librarian and finally promoted to library supervisor over a third of the HISD's 300 schools, Cochrane was charged with overseeing the construction or remodelling of dozens of libraries across the district for the last decade."I call it the 'Wow Factor' when kids see these facilities," said Jim Hundemer, head of the district's library services. "Most think we have antiquated facilities. They can't believe it when they see the changes."He pointed to Oak Forest Elementary's library, which has natural lighting pouring from a skylight into inviting reading areas, while Reagan High School has transformed a gym, creatively using its high ceilings for an elegant library setting.
"She also helped with the building of the district's first 'green' library at Walnut Bend Elementary that maximizes energy efficiency," he said.In addition, he praised her for coordinating the switching of the district's 4 million books from outmoded card catalogues to computer automation."It took three years," he said. "And she led the way."Linda "Susie" Belk was born March 7, 1950, in Texas City.
A graduate of Texas City High School in 1968, Cochrane attended College of the Mainland and then earned an education degree from the University of Houston and later her master's in library services from the University of Houston Clear Lake.
Cochrane's best friend and college roommate, Dianna "Sissy" Nannen, was not surprised when Cochrane got tired of the classroom and ventured into library services after her children were born."She was a reader, who liked to organize things. A planner, who planned everything," said Nannen.Besides reading, Nannen said Cochrane enjoyed watching sports, especially when her youngest son played football for the U.S. Naval Academy."She was always a loving person, who enjoyed life and laughed a lot," Nannen said.She is survived by her husband of 32 years, Alan Cochrane; sons Brett Cochrane of Houston and Andrew Cochrane of Richmond, Va.; and parents Leonard and Mable Belk of Texas City.
The funeral will be at 10 a.m. Friday (Sept 5th, 2008) at Memorial Oaks Funeral Home, 13001 Katy Freeway in Houston.